95% of Waste Diverted from Landfill in 2017
Every November we welcome roughly 8,000 runners and walkers to experience one of the most pristine stretches of coastline in California by foot. Our ability to run along the stunning Monterey Bay marine sanctuary is a unique privilege, and we take our commitment to sustaining the integrity of the Central Coast landscape very seriously. Because our organization understands the importance and urgency of developing ecologically and environmentally sustainable practices surrounding our events, we are always taking steps to maintain our status as a zero-waste event.
Our events impact the surrounding Monterey Peninsula communities and our efforts to "reduce, re-use, and recycle" go a long way towards keeping our destination cities both green and pristine. Chances are you've seen our Green Team in action at the Health and Fitness Expo educating participants about how to dispose of waste in the proper bins, or maybe the Half Marathon Finish Village, working tirelessly to sort waste. But who are those folks, and what exactly are they doing?
We partner with Blue Strike Environmental on race weekend to minimize our ecological footprint and divert as much waste from the landfill as possible. Historically, our Green Team has diverted between 92% and 98% of all race weekend waste through recycling, donating, and composting. That's why you won't find a single garbage can sitting around on race weekend.
Here's where your garbage goes:
Recycling: All bottles, cans, plastic, and cardboard are recycled. Heatsheets, foil-lined wrappers, and performance nutrition packaging are also separated and up-cycled.
Composting: Compostable items such as food waste, plates, and utensils are collected and sent to the Monterey Regional Waste Management's anaerobic digester.
Donating: Leftover food, abandoned clothing and shoes are donated to the Last Chance Mercantile and other Monterey County nonprofits.
At the 2017 half marathon, 95% of all waste was diverted from the landfill. That's 3.8 TONS!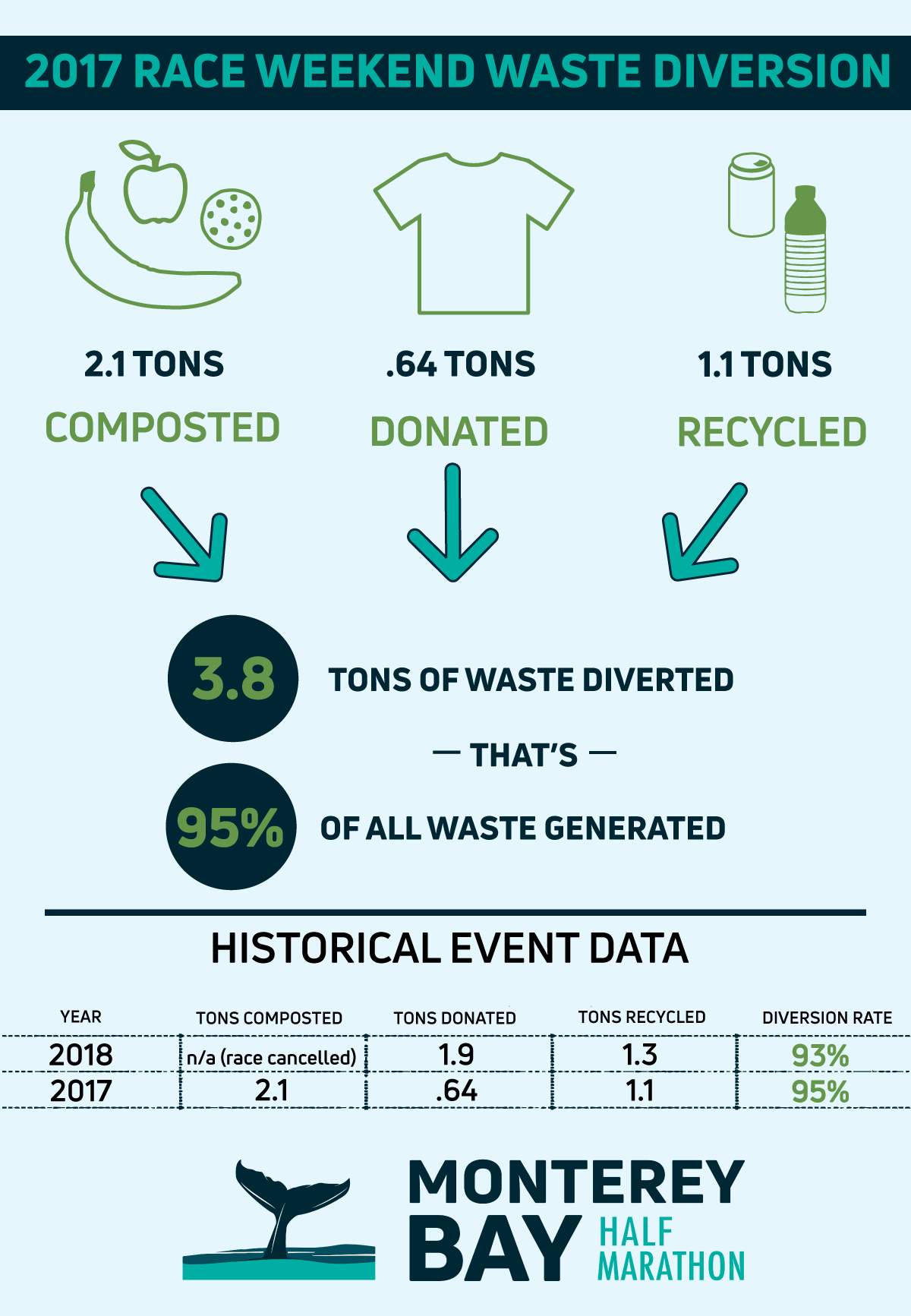 Community Impact
As you learned from the infographic above, 2.1 tons of clothing, food, and other items were donated to local nonprofit agencies following the 2017 half marathon. Here's exactly where these donations make an impact in the Monterey County community:
• BSMF donates all leftover food to local non-profit organizations in the county
• All discarded runner clothing is delivered as a donation to the Last Chance Mercantile in Marina, CA
We rely on the help of roughly 1,500 community volunteers to produce the Monterey Bay Half Marathon and related race weekend events. Each year, Community Partnership for Youth, a local nonprofit aimed at protecting children from violence, crime, and drugs, provides a group of dedicated volunteers for our Green Team. The Green Team offers an avenue for CPY volunteers to learn about green initiatives and sustainability, all while earning funds in the form of grant donations from the Big Sur Marathon Foundation. Since our first race in 1986, the Big Sur Marathon Foundation has given over $5 million to Monterey County nonprofits.