Travel and Lodging
Enjoy your weekend on the Monterey Peninsula

The 2020 Monterey Bay Half Marathon, originally scheduled for Saturday November 14th, has been cancelled. There will NOT be a virtual event.

The Monterey Peninsula is located on the Central Coast of California, 120 miles south of San Francisco and 320 north of Los Angeles. The Monterey Conference Center serves as headquarters for the Health & Fitness Expo. Hotels are located throughout the Monterey Peninsula (cities of Monterey, Pacific Grove, Carmel, Seaside and Marina).
TRAVEL
You can fly directly into the Monterey Regional Airport
, only five minutes from downtown Monter

Other airport optionsinclude San Jose (SJC) 70 miles away, San Francisco (SFO) 110 miles away and Oakland (OAK) 110 miles away.
LODGING
The Monterey Peninsula offers a wealth and variety of lodging opportunities. The 2020 race is now a virtual event. No lodging opportunities will be available in 2020.
                                                          
CAMPGROUNDS & OTHER HOTELS
The Monterey Bay Half Marathon takes place in the cities of Monterey and Pacific Grove. Additional hotels and inns are located in the surrounding cities of Carmel, Seaside and Marina, Alternative lodging in the area includes campgrounds, RV Parks and hostels.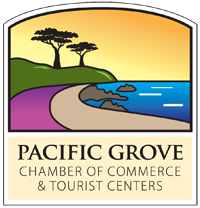 Contact the Pacific Grove Chamber for hotels along the race route in Pacific Grove.