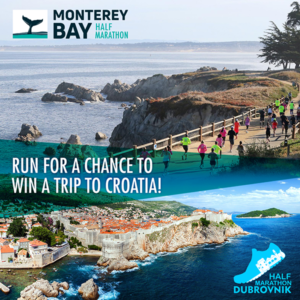 Win the ultimate, once-in-a-lifetime "runcation" to Monterey's sister-city of Dubrovnik, Croatia, and get VIP treatment at the Dubrovnik Half Marathon events in April 2023!
All Monterey Bay Half Marathon registered runners from Monterey County are invited to enter into this random grand prize drawing. Two lucky runners will be announced during the post-race Awards Ceremony at the Custom House Plaza-Monterey State Historic Park.
The two grand prize packages are provided by the Big Sur Marathon Foundation and include the following:
Round-Trip Airline Tickets for Two to Dubrovnik, Croatia
Five-Night Deluxe Hotel Accommodations
Complimentary Entry into the 2023 Dubrovnik Half Marathon & Exclusive Run The Wall Race
VIP Race Package & Special Event Invitations
Meal Allowance to Experience this Culinary Destination
Complimentary Bus Transportation Around Dubrovnik
Special Sister-City Gatherings & Luncheons with the City of Dubrovnik & Monterey
If you are a Monterey County resident and you DID NOT opt-in to enter the drawing when you registered for the Monterey Bay Half Marathon, you can do so by emailing the registrar. Or, you can enter the drawing at the Health & Fitness Expo race weekend.
---
The unique sister-city relationship between the City of Monterey and Dubrovnik, Croatia, started in 2005 to help Dubrovnik develop community-supported events and volunteerism through sports and cultural activities. As a result, the Dubrovnik Half Marathon, 2K Run The Wall, 5K and Kids' Day were born. Today, delegates from the City of Monterey and Dubrovnik continue to work together and bring guest delegates to both the Monterey Bay Half Marathon and Dubrovnik Half Marathon, respectively.
For Dubrovnik, the impact will be felt through current generations and for generations. For Monterey, the pride knowing we helped them succeed, as well as the enormous amount learned just by being a part of the process will also leave a lasting impression of just how valuable sister city relationships can be. The cities are bonded as sisters; the people are bonded as friends.
Read the grand prize drawing official rules